WELCOME TO TWINSUBDYN
PROJECT ID

Project title: Twinning excellence on organic soil amendments effect on nutrient and contaminant dynamics in the subsurface 
Project acronym: TwinSubDyn 
Project coordinator: Prof. dr Snežana Maletić
GA Number: 101059546
Call identifier: Twinning Western Balkans HORIZON-WIDERA-2021-ACCESS-02
Topic: HORIZON-WIDERA-2021-ACCESS-02-01
Start date of project: 01/08/2022
Duration: 36 months

Project partners:
| | | | |
| --- | --- | --- | --- |
| N° | Short | Beneficiary | Role |
| 1 | UNSPMF | University of Novi Sad Faculty of Sciences | CO |
| 2 | UNIVIE | University of Vienna | BEN |
| 3 | FZJ | Forschungszentrum Jülich | BEN |
| 4 | MLU | Martin-Luther-Universität Halle-Wittenberg | BEN |
| 5 | CSIC | Spanish National Research Council | BEN |
Project concept

The Western Balkan is an integral part of Europe and a geostrategic priority for the European Union. In this area agriculture and food production is cited by government and stakeholder groups as one of the most prominent priority domains, and the most relevant for research and innovation. Globally, current agricultural practices result in harmful environmental effects, including three key problems: deterioration of soil as a key non-renewable resource in our lifetime, groundwater pollution, and increasing agricultural residues. In the northern part of Serbia, 82% of the area is used for agriculture. Therefore, it has been recognized the urgent need to shift towards environmentally sustainable food production. This may be achieved by focusing on integrated systems of crop and livestock production which enables optimum utilization of resources following concepts of circular economy. Thereby, a widespread use of organic soil amendments in agriculture is foreseeable. These amendments may include anaerobic digestate, manure, sewage sludge, compost, as well as biochar. The potential for the application of organic soil amendments is growing in the Western Balkan. This is mostly due to rapid increase of biogas energy production, installation of wastewater treatment plants, and to a smaller extent compost- and biochar production. These amendments will affect soil structure, element cycling, and nutrient composition in the soil. Organic soil amendments can be a source and/or a sink of nutrients as well as organic and inorganic pollutants (predominately pharmaceuticals, pesticides and microplastics). Thus, they are expected to affect soil and groundwater quality. Modulated organic matter dynamics caused by organic soil amendments are expected to affect contaminant and colloid fate, with additional implications for groundwater quality.



Objectives

Twinning excellence on organic soil amendments effect on nutrient and contaminant dynamics in the subsurface (TwinSubDyn) aims to boost research excellence of University of Novi Sad, Faculty of Sciences and establish a knowledge hub based in Serbia to address unresolved challenges on the impact of organic soil amendments on the fate of contaminants (pharmaceuticals, pesticides, microplastics), and nutrient dynamics in the soil subsurface and their implications for groundwater quality.
To significantly advance the roadmap of Research and Inovation and strengthen the research position in the defined field, University of Novi Sad, Faculty of Sciences will link with 4 cross-disciplinary leading partners University of Vienna, Forschungszentrum Jülich, Martin Luther University Halle-Wittenberg and Consejo Superior de Investigaciones Científicas. Each scientific partner will be committed to transfer specific knowledge and expertise: (1) Bridge knowledge on soil organic matter dynamics and its effect on nutrient, contaminant mobility and transformation with hydrogeological modelling and state of the art analytical techniques. (2) Build-up the capacity to elucidate element cycling via isotopically labelled substances with a special focus on soil organic matter, which governs many processes in the subsurface. The overarching goal of the project to step up and stimulate both the scientific excellence and innovation capacity and institutional research support and administration will be reached through 4 specific objectives:


OUR ACHIVEMENT
5
INSTITUTION
37
TEAM MEMBERS
160
NUMBER OF TRAINEES
6
EVENTS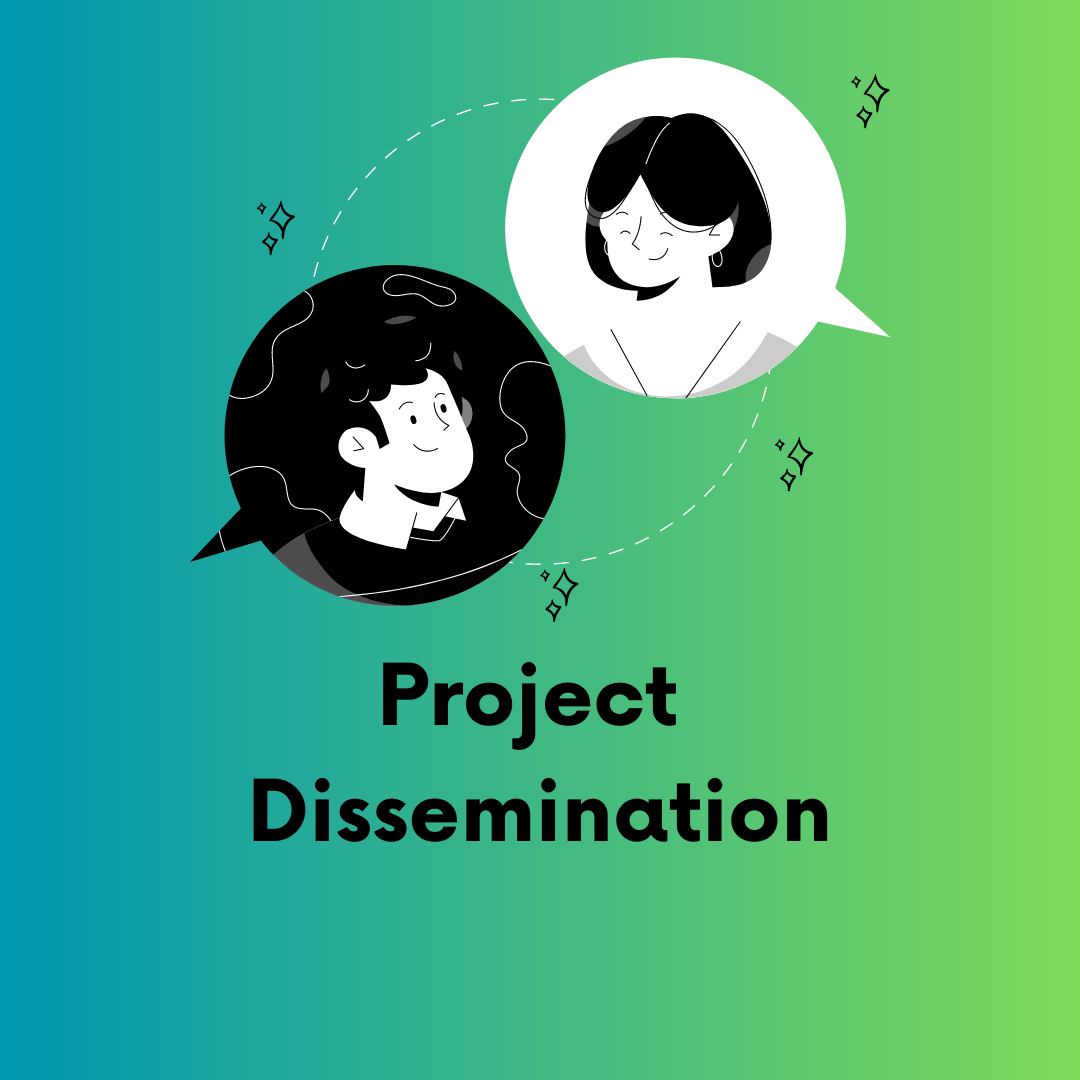 TwinSubDyn Project: Making Waves in Dissemination Efforts

In a two days dedicated to the dissemination of research, the TwinSubDyn project made significant strides in expanding its impact and inspiring fellow researchers. The team, brimming with enthusiasm, embarked on two remarkable journeys, each leaving an indelible mark on the scientific community.

The first stop took us to Seged University in Hungary, where our college Djurdja Kerkez presented our TSD groundbreaking project. The collegial atmosphere at the university amplified their excitement, especially when their colleagues displayed an unwavering interest in the subject of biochar and organic amendments. Delving deeper into the potential of biochar and its applications promises exciting times ahead for this ambitious initiative. The team expressed their gratitude for the opportunity to present their project, share their findings, and contribute to the ever-growing knowledge in this domain.

Meanwhile, in Seville, Spain, the project continued its triumphant journey with the talented Tamara Apostolovic, PhD, leading the charge. In the presence of eager young researchers, Tamara showcased the project's remarkable achievements. The exchange of progress and insights with the future experts in this field presented an incredible opportunity to inspire and foster collaboration. The team expressed their heartfelt delight for Tamara's involvement in sharing their collective accomplishments, recognizing the significance of nurturing the next generation of future experts.

The TwinSubDyn project stands at the forefront of scientific advancement, propelled by a relentless pursuit of knowledge and a commitment to sharing its discoveries. With each dissemination event, the project continues to establish itself as a force to be reckoned with, captivating the minds of fellow researchers and igniting a collaborative spirit. As they pave the way for a better understanding of biochar and its applications, the TwinSubDyn team remains grateful for the opportunities that propel their mission forward. The project's impact knows no bounds, leaving an indelible legacy for generations to come.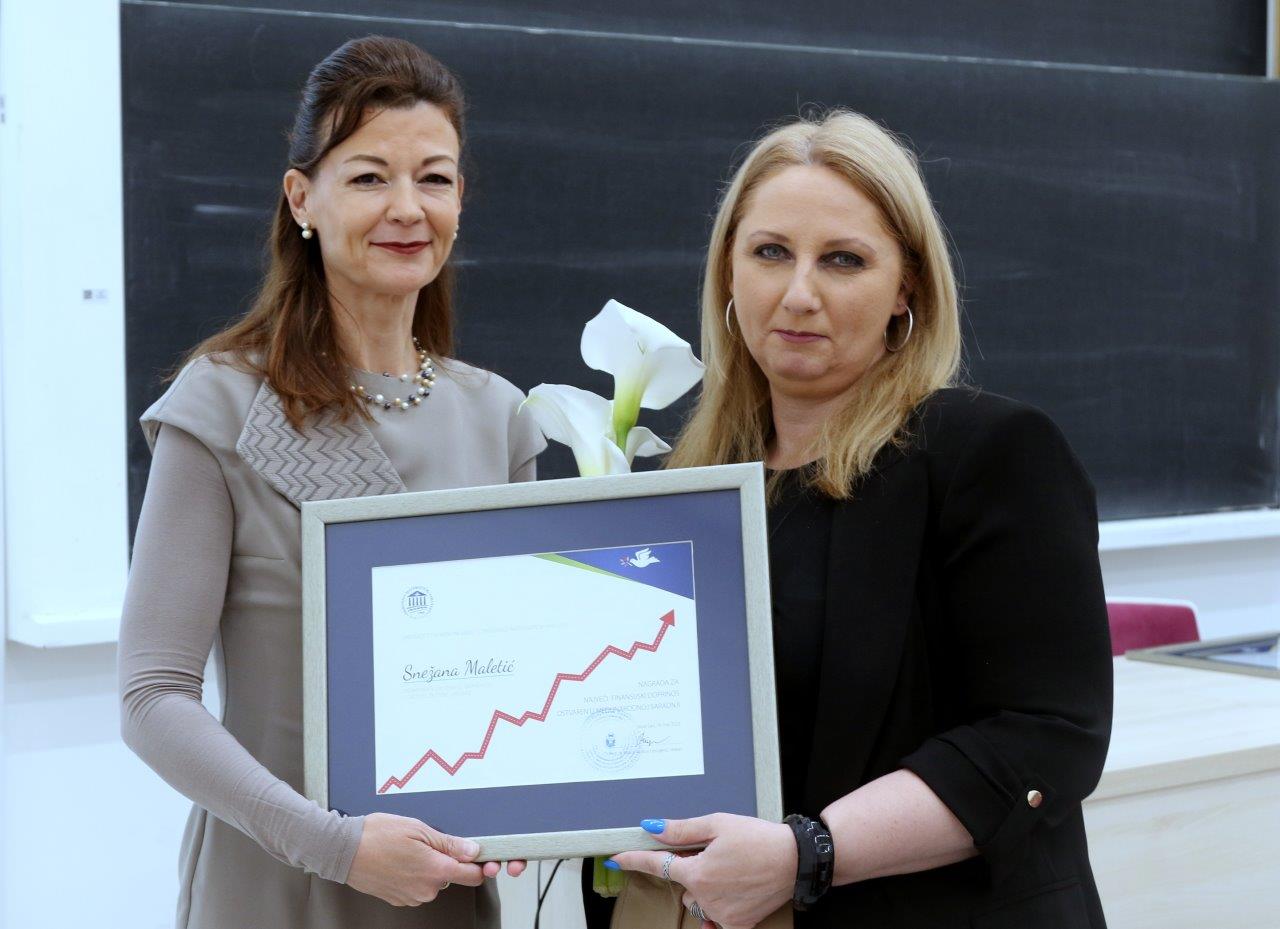 Exciting News Alert!
We are thrilled to announce that Professor Snežana Maletić, project manager of the TwinSubDyn project, has been honored with the prestigious Award for the greatest financial contribution made in international cooperation!

This remarkable recognition was presented at a grand ceremony held on the occasion of the 54th anniversary of the Faculty of Sciences.

Profesor Maletic stated that international collaboration is very important for scientists to pool their knowledge and share information that could lead to new discoveries. The importance of this project is reflected in the fact that researchers from our institution will have the opportunity to exchange and acquire new knowledge through visits to the leading institutions in Europe in the field of organic additives, their characterization and monitoring of the impact on soil and groundwater quality.

The project lasts from August 1, 2022 to July 31, 2025. The total project budget is almost 1.5 million euros.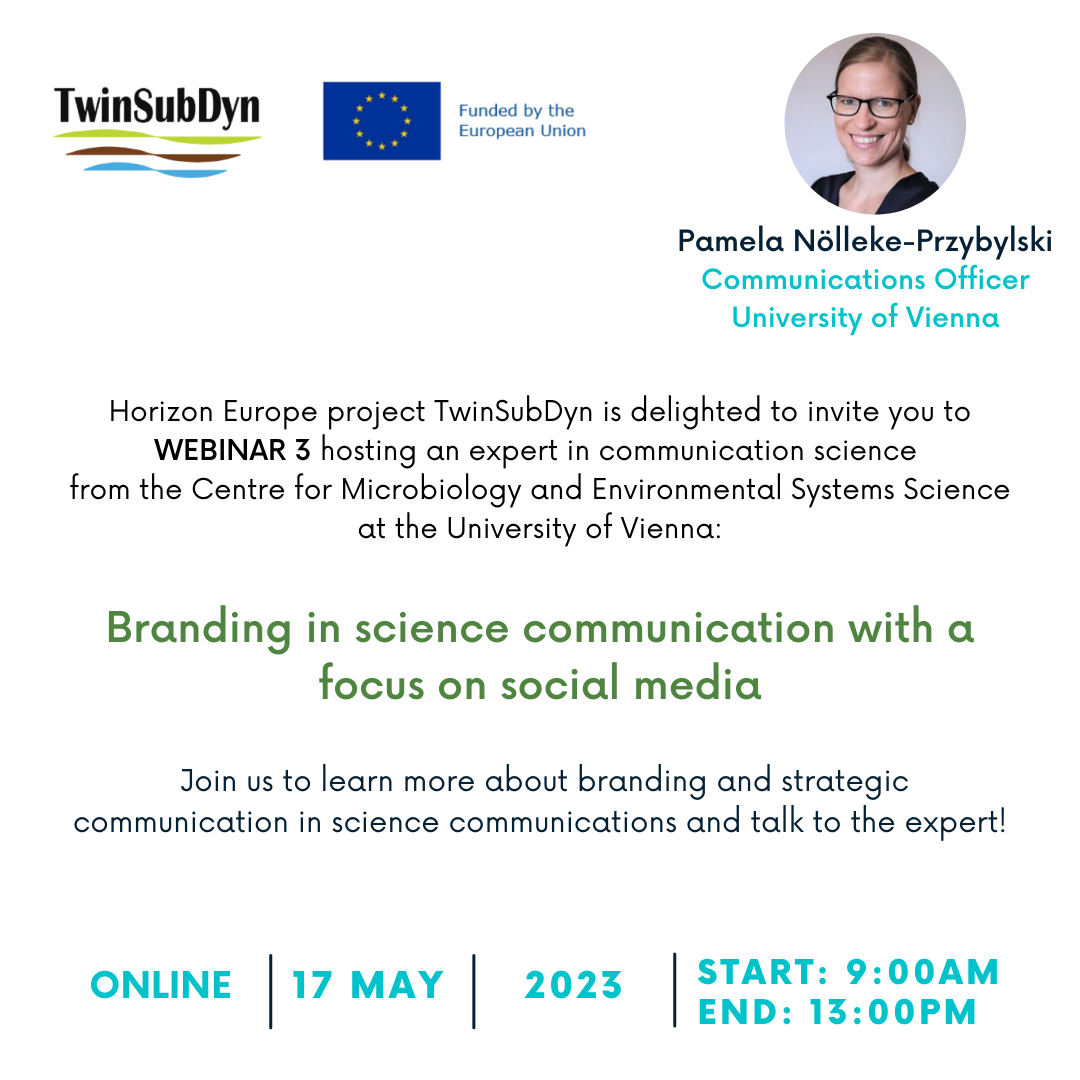 Dear Colleagues,
Horizon Europe project TwinSubDyn is delighted to invite you to WEBINAR 3 hosting an expert in communication science from the Centre for Microbiology and Environmental Systems Science at the University of Vienna.

Branding in science communication with a focus on social media

Speaker: Dr. Pamela Nölleke-Przybylski, Communications Officer

All information and key details can be found HERE.

Please do not hesitate to reach out if you have any questions:
twinsubdyn@pmf.uns.ac.rs

We look forward to your participation!

TwinSubDyn Team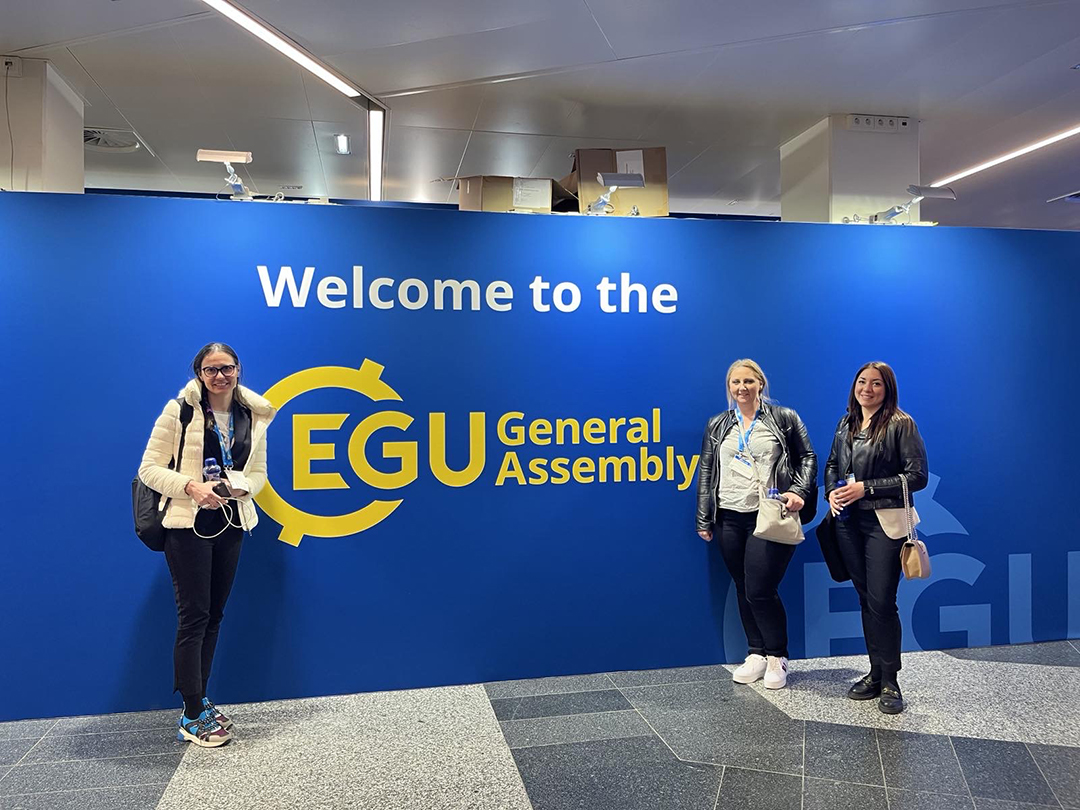 Last week, the TwinSubDyn team attended the international General Assembly 2023 of the European Geosciences Union (EGU) held in Vienna, Austria. This year's conference brought together scientists from all over the world to discuss all disciplines of the Earth, planetary, and space sciences. The event offered a platform for scientists, including early career researchers, to present their work and exchange ideas with experts from various geoscience fields.

Dr. Snežana Maletić, the project manager of the TwinSubDyn project, was main convener in the session on Multidisciplinary Approaches for Sustainable Land Use. Additionally, team members Gabriel Sigmund, Heike Knicker, and Marijana Kragulj Isakovski co-convened the session, showcasing their expertise in the sustainable land-use field.

The conference also featured the publication of two research papers by TwinSubDyn team members. The first, titled "Transport of selected organophosphorus pesticides through alluvial sediment with the addition of microbially inoculated chars," was authored by Irina Jevrosimov, Marijana Kragulj Isakovski, Tamara Apostolović, Srđan Rončević, Dragana Tamindžija, and Snežana Maletić. The second paper, titled "Biodegradation potential of fenthion and disulfoton on inoculated biochar through alluvial Danube sediment," was authored by Snežana Maletić, Irina Jevrosimov, Marijana Kragulj Isakovski, Dragana Tamindžija, Ana Volarić, Tamara Apostolović, and Srdjan Roncević.

The participation of the TwinSubDyn team members and the publication of their research papers at the EGU General Assembly 2023 highlight their contributions to the field of sustainable land use. The team's contributions to the conference and their research papers provide valuable insights and knowledge in this field, which could have significant implications for creating a toxic-free environment.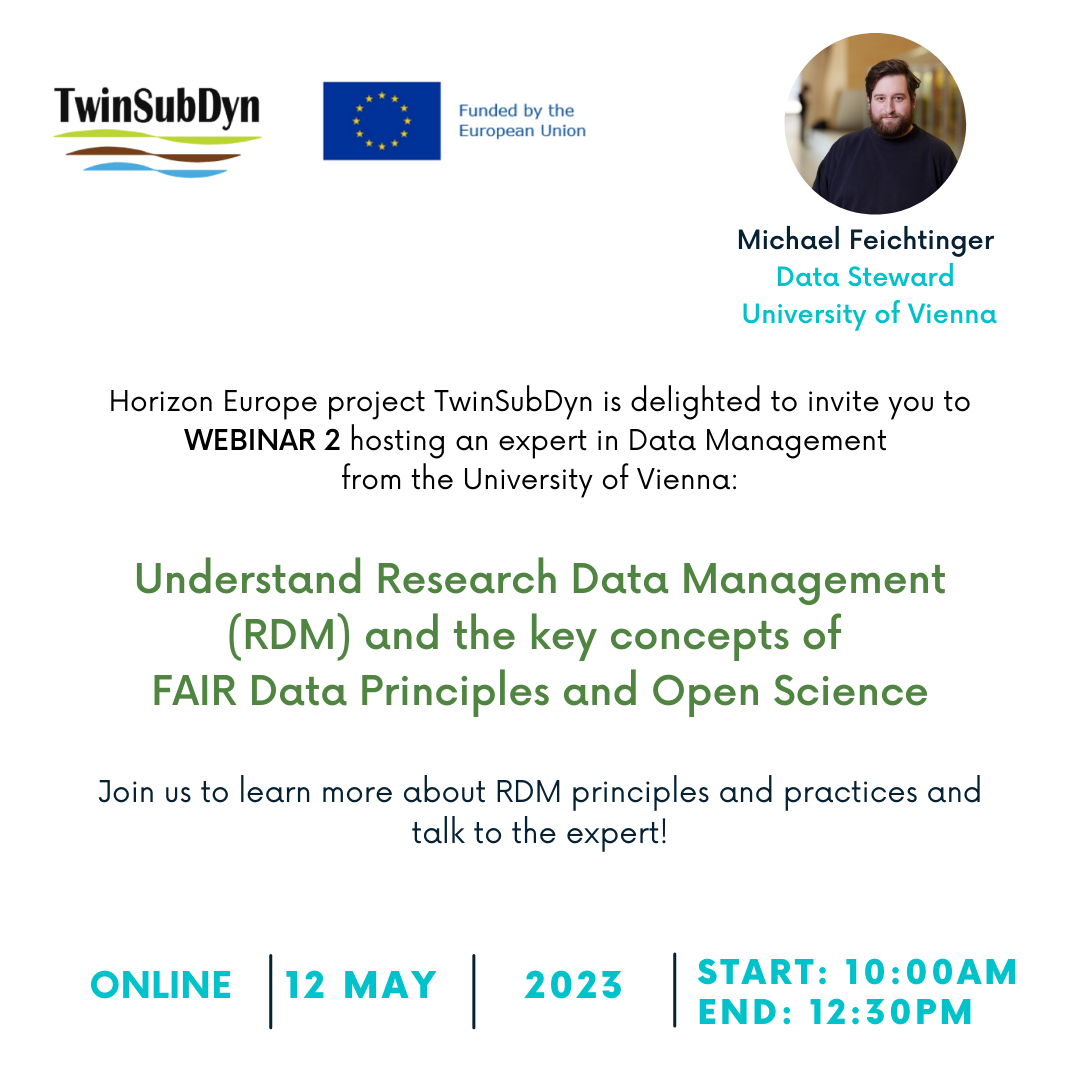 Dear Colleagues,

Horizon Europe project TwinSubDyn is delighted to invite you to WEBINAR 2 hosting an expert in Data Management from the University of Vienna:


Understand Research Data Management (RDM) and the key concepts of FAIR Data Principles and Open Science
Speaker:
Michael Feichtinger, Data Management Officer (UNIVIE)
This webinar will provide an introduction to Research Data Management (RDM) and the key concepts of FAIR principles and Open Science. The University of Vienna's RDM services and data stewardship pilot project will also be discussed, with insights on how RDM can be implemented in other institutions. The webinar will also include an extensive Q&A session, providing attendees with the opportunity to ask questions and engage with the presenter. By the end of the session, attendees will have a better understanding of RDM principles and practices, as well as practical strategies for implementing them in their own institutions.
All information and key details
can be found
Please do not hesitate to reach out if you have any questions:
twinsubdyn@pmf.uns.ac.rs
We look forward to your participation!
TwinSubDyn Team
CAPACITY OF PARTICIPANTS AND CONSORTIUM AS A WHOLE
We have chosen our project partners from EU institutions we have previously collaborated with or with which we currently have on-going research collaborations. In addition, there is only one partnering organization with which we have established cooperation only recently, and we want to strengthen our links with that group. All partners were chosen carefully to help us unlock our research potential in the specific research areas we have identified as our specific scientific objectives.



JOIN OUR NEWSLETTER
Receive our latest news and achievements.