WELCOME TO TWINSUBDYN
PROJECT ID

Project title: Twinning excellence on organic soil amendments effect on nutrient and contaminant dynamics in the subsurface 
Project acronym: TwinSubDyn 
Project coordinator: Prof. dr Snežana Maletić
GA Number: 101059546
Call identifier: Twinning Western Balkans HORIZON-WIDERA-2021-ACCESS-02
Topic: HORIZON-WIDERA-2021-ACCESS-02-01
Start date of project: 01/08/2022
Duration: 36 months

Project partners:
| | | | |
| --- | --- | --- | --- |
| N° | Short | Beneficiary | Role |
| 1 | UNSPMF | University of Novi Sad Faculty of Sciences | CO |
| 2 | UNIVIE | University of Vienna | BEN |
| 3 | FZJ | Forschungszentrum Jülich | BEN |
| 4 | MLU | Martin-Luther-Universität Halle-Wittenberg | BEN |
| 5 | CSIC | Spanish National Research Council | BEN |
Project concept

The Western Balkan is an integral part of Europe and a geostrategic priority for the European Union. In this area agriculture and food production is cited by government and stakeholder groups as one of the most prominent priority domains, and the most relevant for research and innovation. Globally, current agricultural practices result in harmful environmental effects, including three key problems: deterioration of soil as a key non-renewable resource in our lifetime, groundwater pollution, and increasing agricultural residues. In the northern part of Serbia, 82% of the area is used for agriculture. Therefore, it has been recognized the urgent need to shift towards environmentally sustainable food production. This may be achieved by focusing on integrated systems of crop and livestock production which enables optimum utilization of resources following concepts of circular economy. Thereby, a widespread use of organic soil amendments in agriculture is foreseeable. These amendments may include anaerobic digestate, manure, sewage sludge, compost, as well as biochar. The potential for the application of organic soil amendments is growing in the Western Balkan. This is mostly due to rapid increase of biogas energy production, installation of wastewater treatment plants, and to a smaller extent compost- and biochar production. These amendments will affect soil structure, element cycling, and nutrient composition in the soil. Organic soil amendments can be a source and/or a sink of nutrients as well as organic and inorganic pollutants (predominately pharmaceuticals, pesticides and microplastics). Thus, they are expected to affect soil and groundwater quality. Modulated organic matter dynamics caused by organic soil amendments are expected to affect contaminant and colloid fate, with additional implications for groundwater quality.



Objectives

Twinning excellence on organic soil amendments effect on nutrient and contaminant dynamics in the subsurface (TwinSubDyn) aims to boost research excellence of University of Novi Sad, Faculty of Sciences and establish a knowledge hub based in Serbia to address unresolved challenges on the impact of organic soil amendments on the fate of contaminants (pharmaceuticals, pesticides, microplastics), and nutrient dynamics in the soil subsurface and their implications for groundwater quality.
To significantly advance the roadmap of Research and Inovation and strengthen the research position in the defined field, University of Novi Sad, Faculty of Sciences will link with 4 cross-disciplinary leading partners University of Vienna, Forschungszentrum Jülich, Martin Luther University Halle-Wittenberg and Consejo Superior de Investigaciones Científicas. Each scientific partner will be committed to transfer specific knowledge and expertise: (1) Bridge knowledge on soil organic matter dynamics and its effect on nutrient, contaminant mobility and transformation with hydrogeological modelling and state of the art analytical techniques. (2) Build-up the capacity to elucidate element cycling via isotopically labelled substances with a special focus on soil organic matter, which governs many processes in the subsurface. The overarching goal of the project to step up and stimulate both the scientific excellence and innovation capacity and institutional research support and administration will be reached through 4 specific objectives:


OUR ACHIVEMENT
5
INSTITUTION
37
TEAM MEMBERS
295
NUMBER OF TRAINEES
6
EVENTS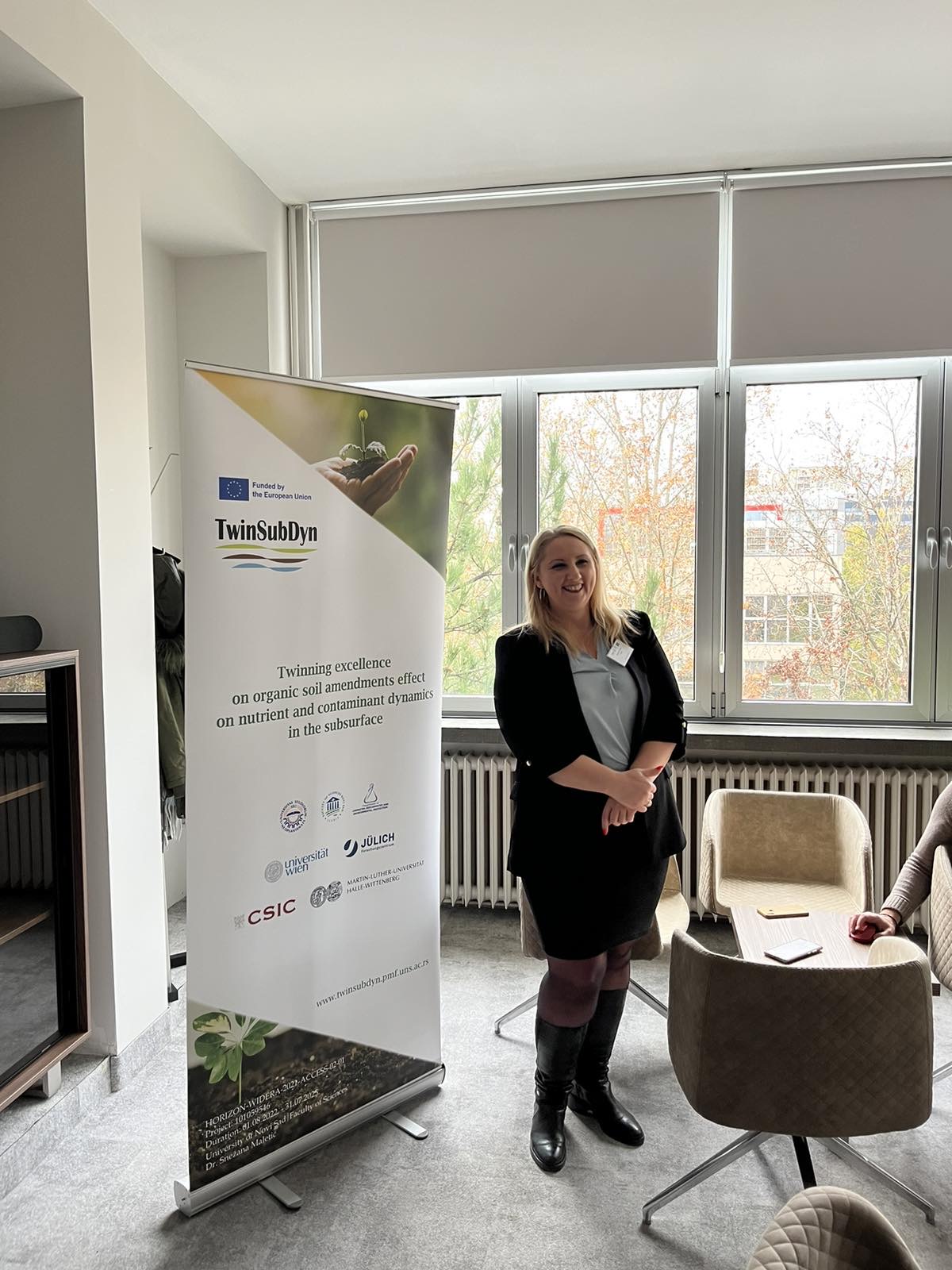 Successful Conclusion of the Second TwinSubDyn Workshop: A Collaborative Endeavor

The second edition of the TwinSubDyn workshop has officially ended, marking another milestone in collaborative knowledge exchange and innovation. We express our sincere gratitude to our esteemed partners at University of Vienna for their invaluable collaboration throughout this enriching experience.

The workshop provided a platform for an inspiring exchange of knowledge and ideas, fostering a dynamic environment that encouraged participants to share insights and expertise. The collaborative spirit that permeated the event contributed to its success, and we are grateful for the active involvement of all participants.

A special shoutout goes to projects Phytoremediation for in situ treatment of agricultural soil and surface waters polluted with per- and polyfluoroalkyl substances – research on PFOS and PFOA as model compounds (PhytoPFAS), Twinning to address the PFAS challenge in Serbia (PFAStwin), Project GREENLand microplastic free environment, Twinning for Smart Water – Thinking and Rethinking Wastewater Management in Circular Economy Frame (SmartWaterTwin), and Twinning for enhancing the scientific excellence of Faculty of Technology Novi Sad for innovative solutions to protect environmental resources from contaminants of emerging concerne (TwiNSol-CECs) for their outstanding contributions and engagement in the thought-provoking brainstorming sessions. These interactions not only sparked creativity but also laid the foundation for potential future collaborations and projects.

As we bring the second TwinSubDyn workshop to a close, we eagerly anticipate the prospect of reconnecting next year. The success of this workshop sets the stage for future endeavors, and we look forward to introducing fresh workshops and events that will continue to push the boundaries of knowledge and innovation.

In conclusion, the TwinSubDyn workshop series stands as a testament to the power of collaboration and the exchange of ideas. We extend our gratitude to all participants for their enthusiasm and dedication, and we eagerly anticipate the exciting opportunities that the future holds for our community. Until next year!

TwinSubDyn Team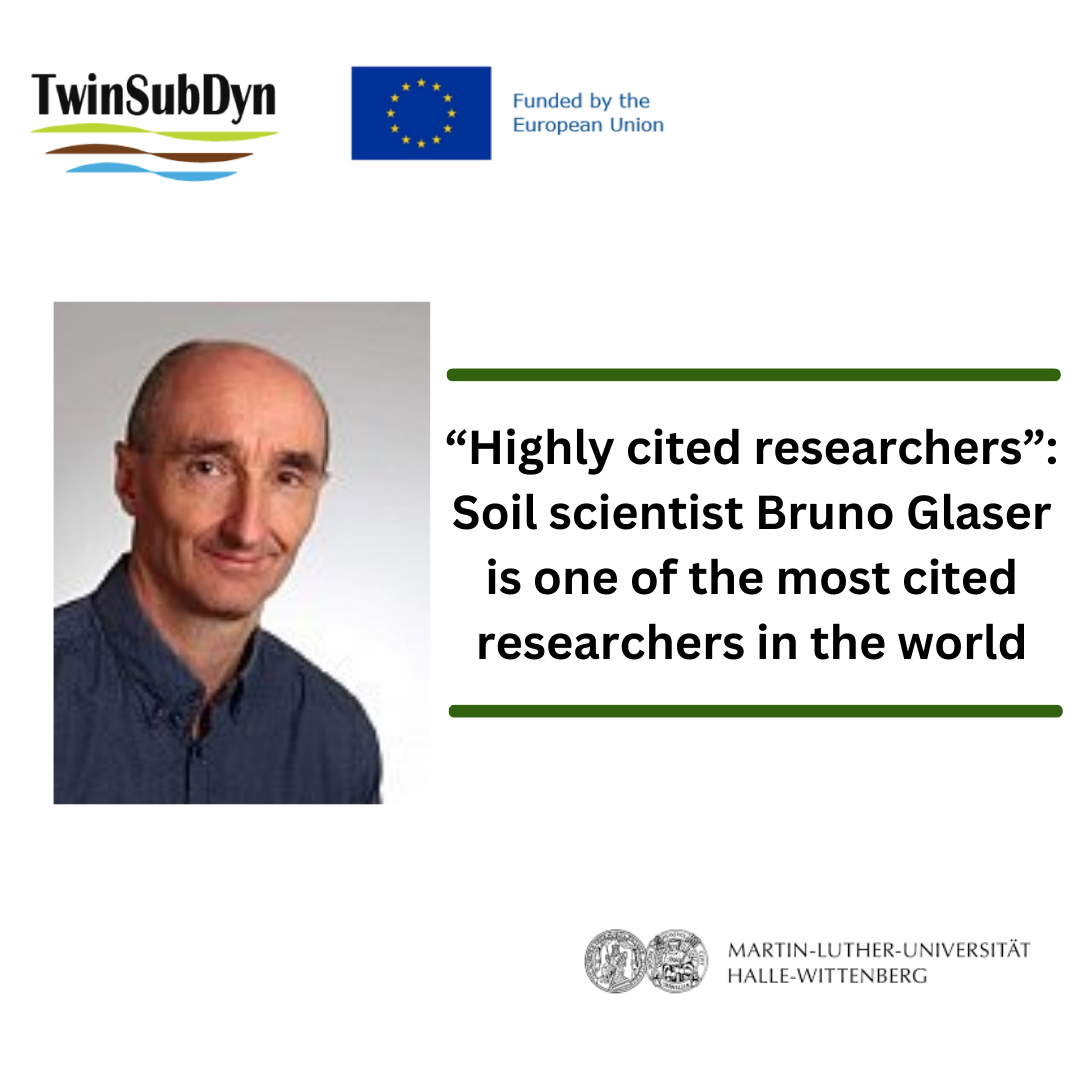 "Highly cited researchers": Soil scientist Bruno Glaser is one of the most cited researchers in the world

We are delighted to announce that one of our TwinSubDyn team member Prof. Dr. Bruno Glaser of Martin Luther University Halle-Wittenberg has achieved global recognition by making it onto the prestigious "Highly Cited Researchers 2023" list, according to a report by Clarivate.

The analysis, which identifies researchers with exceptionally high citation rates, highlights Glaser's groundbreaking work in biochar and various biogeochemical processes in soil, earning him a spot among the world's most influential scientists for the first time.

As one of five scientists from MLU in the new edition of the ranking, Glaser's 27 years of research on the "Terra Preta phenomenon" and biochar have significantly contributed to understanding how charring organic materials at high temperatures can stabilize carbon and mitigate its release as carbon dioxide, thus addressing concerns related to global warming.

Professor Glaser emphasizes the multifaceted benefits of biochar, stating, "Biochar can not only bind carbon dioxide in the soil but also enhance soil properties, enabling it to retain more water and facilitate the slow release of nutrients to plants, making it a crucial tool in building soil resilience against climate change."

Born in 1966, Glaser, who has been a professor of soil biogeochemistry at MLU since 2010, boasts an impressive track record with over 220 scientific publications, including contributions to esteemed journals such as "Science," "Nature Geoscience," and "Biochar Journal," solidifying his position as a leading figure in soil science.

A total of 6,849 researchers from 67 countries are listed in this year's edition of "Highly cited researchers". The ranking of "Highly cited researchers" is published annually and includes the one percent of researchers worldwide who have been cited more frequently in specialist journals in the past ten years than their colleagues in the same field.

Link to the current edition of the rankings: https://clarivate.com/highly-cited-researchers/

TwinSubDyn Team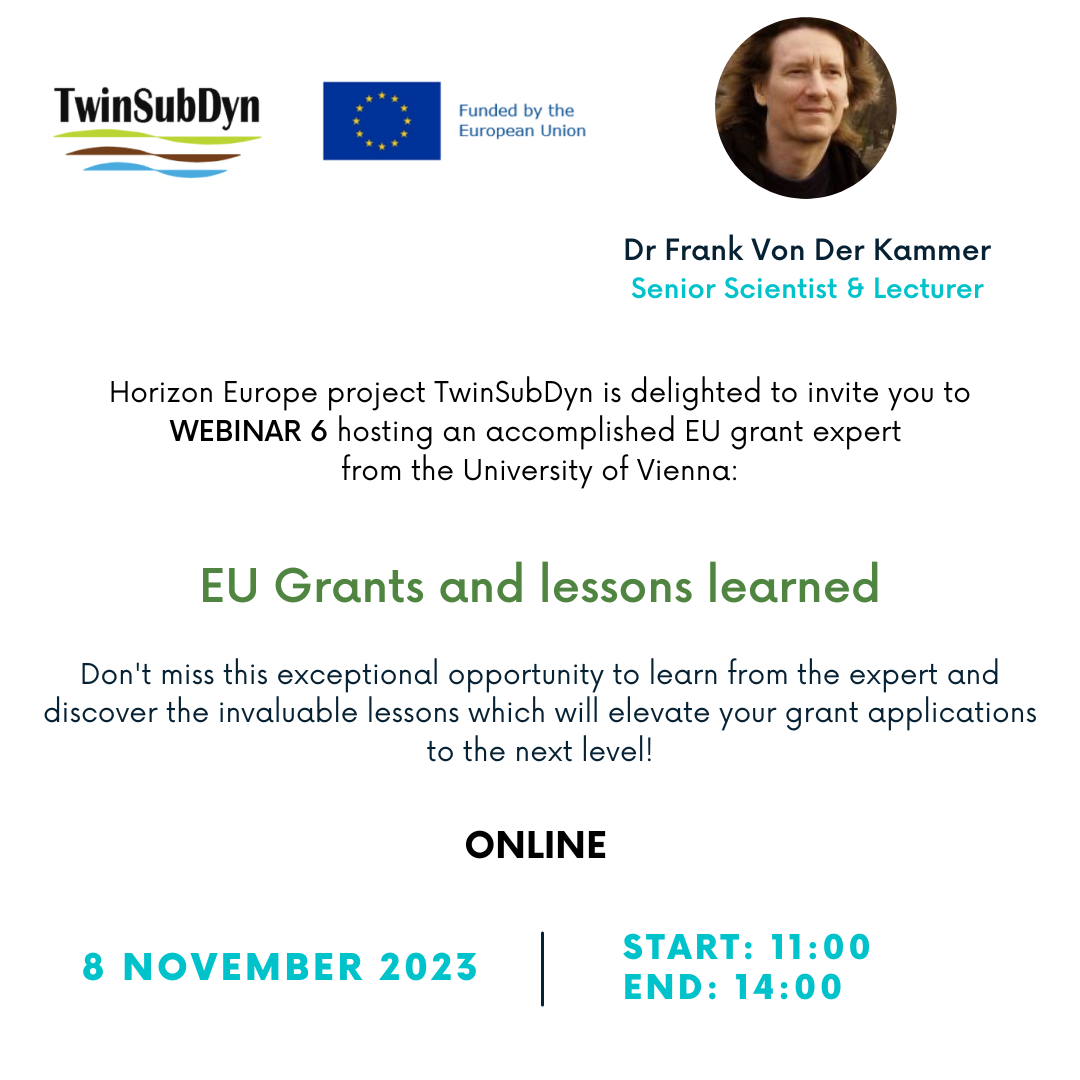 Dear Colleagues,

Horizon Europe project TwinSubDyn is delighted to invite you to WEBINAR 6 hosting an accomplished EU grant expert from the University of Vienna, Department for Environmental Geosciences. Join us for a webinar: EU Grants and lessons learned Speaker: Dr Frank Von Der Kammer, Senior Scientist & Lecturer Key details can be found HERE.

Don't miss this exceptional opportunity to learn from the expert and discover the invaluable lessons which will elevate your grant applications to the next level!

We're excited to welcome you to an engaging and knowledge-packed event!

TwinSubDyn Team





Read more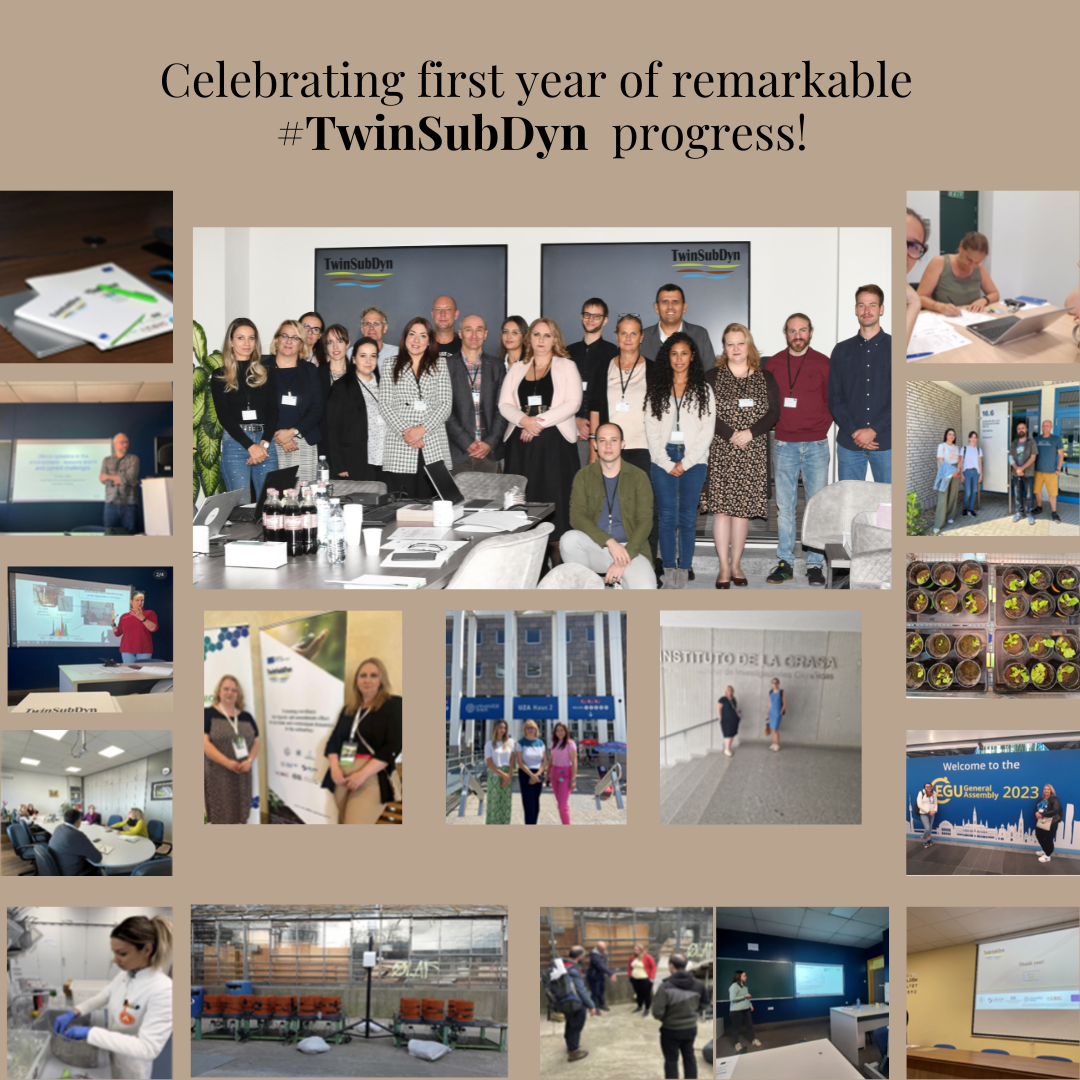 Celebrating one year of remarkable progress with #TwinSubDyn! It's been an incredible journey filled with growth, collaboration, and unforgettable experiences thanks to our project partners Forschungszentrum Jülich, University of Vienna, Martin-Luther-Universität Halle-Wittenberg and Institute of Natural Resources and Agrobiology of Seville. Over the past year, we've embraced the power of innovation through our immersive 6-month secondments, where knowledge flowed freely, sparking creativity that knows no bounds.

Our 1-month visits were like windows to new worlds, enriching our perspectives and igniting fresh ideas that continue to drive us forward. And who could forget the engaging webinars that connected us across distances, fostering insightful discussions and connecting our minds?

The hands-on, on-site trainings were the cornerstone of our growth, where theory met practice, and skills transformed into expertise. As we reflect on this incredible year, we're not just celebrating milestones, but the lasting bonds we've formed and the indomitable spirit of Team TwinSubDyn. Here's to another year of innovation, collaboration, and unwavering determination!

#TwinSubDyn in numbers:

Twinsubdyn has achieved an impressive milestone in its inaugural year, comprising 3 insightful webinars, 5 enriching six-month secondments, 5 productive one-month visits, and 4 comprehensive onsite training sessions.



CAPACITY OF PARTICIPANTS AND CONSORTIUM AS A WHOLE
We have chosen our project partners from EU institutions we have previously collaborated with or with which we currently have on-going research collaborations. In addition, there is only one partnering organization with which we have established cooperation only recently, and we want to strengthen our links with that group. All partners were chosen carefully to help us unlock our research potential in the specific research areas we have identified as our specific scientific objectives.



JOIN OUR NEWSLETTER
Receive our latest news and achievements.